Finding Destiny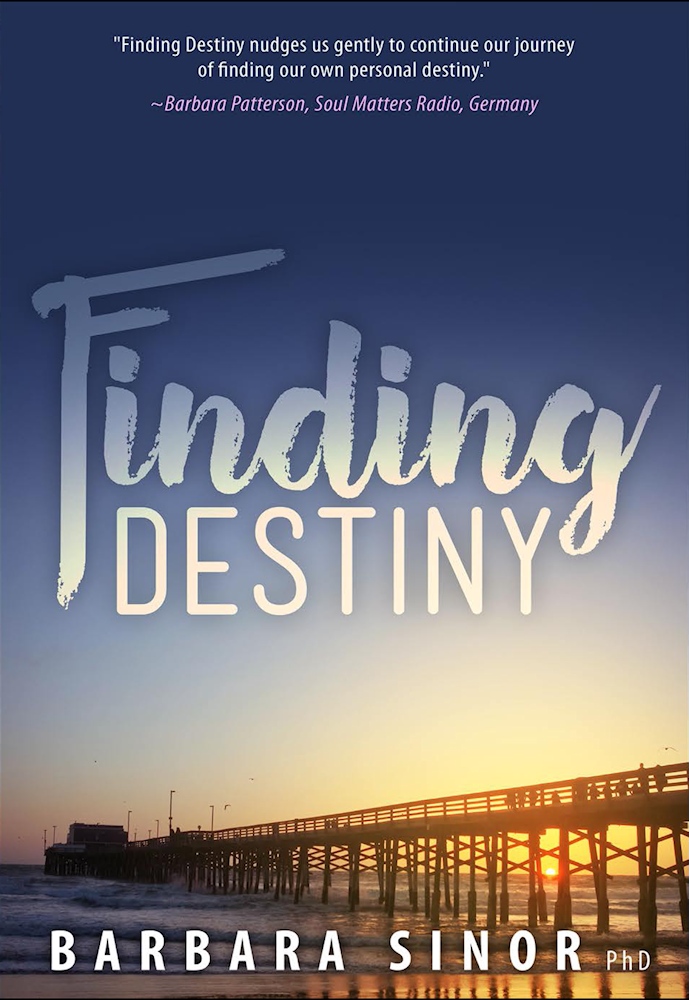 Finding Destiny is my frist novel! After writing six non-fiction books, I truly enjoyed getting deep into writing a story hidden in my mind. This book is filled with life experiences and soul lessons surrounding how we co-create our realities. Another theme that surfaces throughout the storyline is that of women's reproductive rights. This issue is close to my heart and one I have supported my entire life.
The novel is set in England during the 1970s where our seventeen year old heroine is introduced to the reader. As the reader continues into the second Chapter, it becomes apparent that there is a second woman who is reading a book about the British teenager.
The book draws you into the inner most harbor of women's life choices. Bridging many decades, the storyline explores the never-ending struggle for women's rights. It is a book within a book about two woman whose lives intertwine as they reveal their life challenges. The heroines live in separate countries with an age difference of over fifty years at the onset of this compelling tale. Together the women share their journeys with open discussion to bare themselves to the reader's discernment, and it becomes evident that a passion for life keeps them searching ever forward to reveal their true destinies.
I sincerely hope each reader of Finding Destiny receives insight into their own belief system regarding both women's rights and how they have choices to manifest their own lives. Please feel free to connect with me after you have read this novel to let me know what you may have learned and/or your personal views on these issues.
Excerpt:
When life throws us a curve, is it best to hide in a delusion of retreat until the frayed ends of an unknown world are magically mended? We have all attempted this rouse. Usually, the refuge does not unwind the dramas that so cleverly worked their way into our lives. No, retreat is not a decision for brave women who meet each day armed with an inner mantra to squeeze every drop of existence and joie de vivre! from their being. Destiny is one of those young women who accepts Fate's responsibility, properly carrying it upon her shoulders to climb over each obstruction placed on her path. She has learned to stare Fear in the eye, defying its stubborn stance to reach from deep within for enough self-love to snide its confrontation. Yes, Destiny is a rare young woman indeed.
Excerpt:
Luana continued writing late into the night to allow the words to flow from her consciousness onto the keyboard as her fingers typed unrelentingly for hours. After several dozen pages had been added to her manuscript, she took a deep breath and lowered her hands from the lettered keys. "Sometimes I feel as if I am channeling these words!" she whispered to herself. It was well past her regular bedtime, but there was an inner persistence edging her to continue writing. Once again, Luana posed her fingers over the magical computer keys and listened to the words as they hummed their song. It was a mixture of automatic writing and her conscious searching for truth that found its way onto her computer's screen that night. A mixture of educational, experiential, and esoteric knowledge formed uncounted pages of spiritual wisdom for the manuscript that Luana, one day, would claim as her life's work.
Excerpt:
Luana closed her eyes to ruminate on the direction her manuscript would follow. As if magic, her subconscious mind fed the words to her conscious awareness as she typed:
Awake! Be the witness to your thoughts. These wise words were spoken by Gautama Buddha. They are similar to the anonymous words etched on a plaque hanging on my kitchen wall: To make your dreams come true…Wake Up! Both of these quotes command that as human beings, we must become aware of our spiritual selves--the larger Self within that is connected to a Higher Power or Divine Being. Many call this spiritual aspect of our consciousness, a soul. To define this quality notable only beyond words, many use terms like true Self, inner Self, the small voice within, or God-Self. Whatever name given to this unseen yet many times felt soul dimension, we accept the gift of enlightenment when we become aware of its connection. Once enlightened, or awaken to the knowledge that we are a spark emanating from the Oneness of Infinity, we can learn to create our dreams and our reality.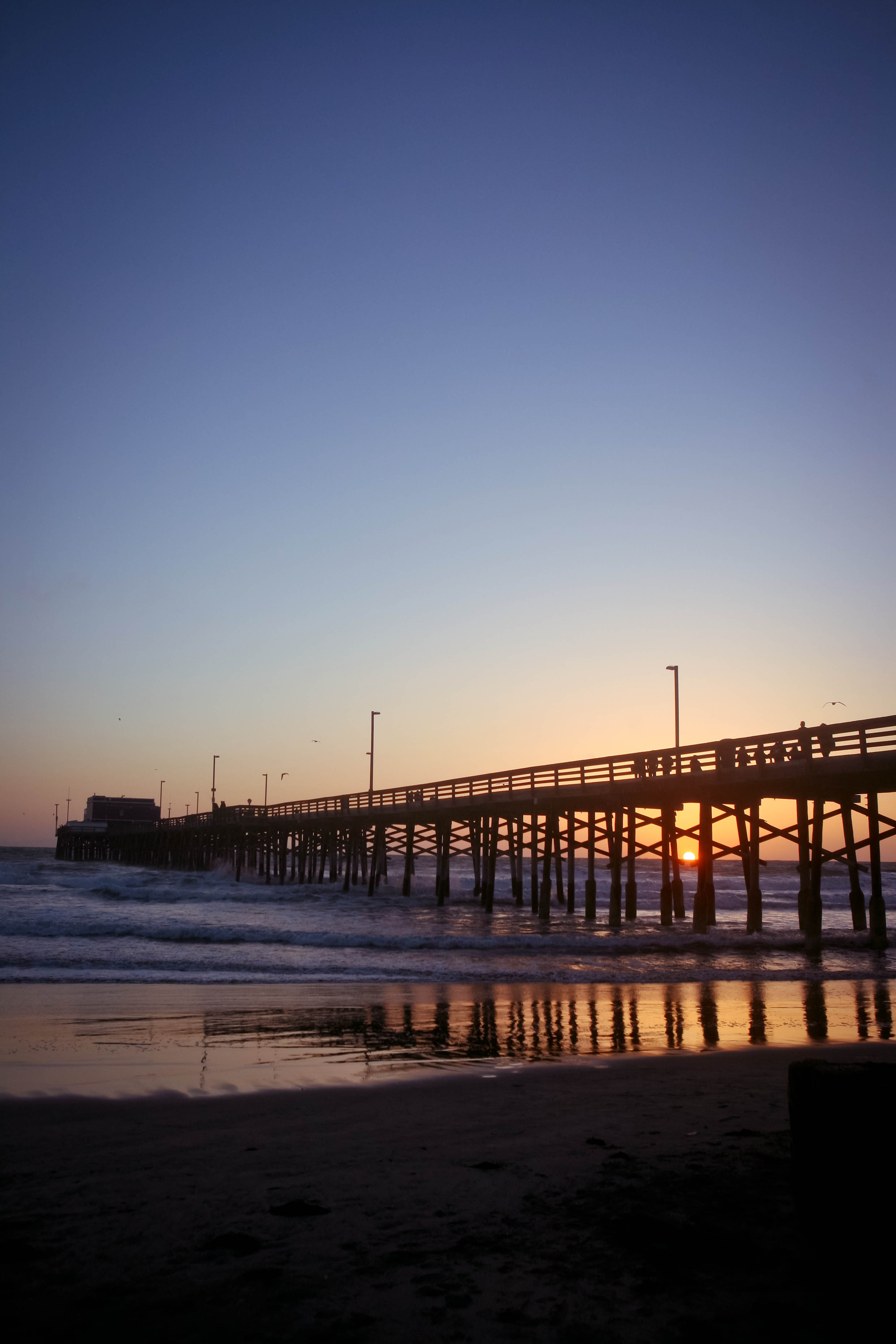 The cover photo was taken by photographer Tracey New Clark. It is a setting viewing the famous Newport Beach Pier in California, this is where some of the story's excitement takes place.
Professional Reviews
Finding Destiny is an engaging book, exploring connections of people separated by time and space. As a woman who has experienced unplanned pregnancy, I was especially appreciative of the exploration of themes regarding how these women dealt with their decisions about an unexpected pregnancy, and how those decisions affected their lives. Finding Destiny is a positive book, filled with insights and stories of growth and adventure.
~Juanita Emery, M.A., Health Practitioner

Finding Destiny unfolds a gripping story of intertwining lives that will inspire the reader to tears of anguish, tears of joy and ultimately, revelation. Lessons are learned in forgiving the past and forging the future with the inner strength that comes from trusting one's self and one's destiny. The novel's complex characters are fully fleshed out until they come alive, and Sinor's exquisite writing style paints pictures in poetic prose that lingers in the mind to be savored again and again. We witness the heroines overcome guilt, fear, and glimpse at how the Universe can work for one's highest good and growth. When the novel's journey has wound to an end, it leaves the reader wanting more--I am looking forward to a sequel!
~Paula B. Slater, M.A., Paula Slater Sculpture, author
Beyond Words: A Lexicon of Metaphysical Thought

Finding Destiny mesmerizes as it wraps itself around your heart. Two women--each on opposite spectrums of the journey of self-discovery–find their lives intertwined in a most unusual way. The entertaining storyline prompts the reader to delve into the depths of their own consciousness. Finding Destiny contains all the elements of a heartwarming novel with rich characters and plot, synchronicities, and a healthy dose of a mesmerizing sea.
~Trisha Faye, author
A Second Chance and My Wildest Dream

Finding Destiny invites us to find inspiration and to remember the interconnectedness of all things. One question asks the reader, "When we fall in love, where does the love come from?" This in itself is a great starting point for a reading group; I would love to discuss this question with the author straight away. Finding Destiny addresses the reader's self-awareness, and Sinor nudges us gently to continue our journey of finding our own personal destiny. Reading the book felt like watching a movie; nail-biting moments, tears, and Goosebumps–all the ingredients a good Hollywood movie needs! I can't wait for her next novel!
~Barbara Patterson, Soul Matters Radio, Germany

Finding Destiny--a must read captivating tale! Dr. Sinor beautifully and delicately weaves together the lives of her characters. She gently invites us to remember the invisible threads connecting us across space and time, while encouraging us to listen more deeply within as we welcome the intuitive guidance and perennial wisdom forever available to all who pause but a moment to reflect. Finding Destiny is a timeless journey through tragedy, heartbreak, confusion, and alienation transformed by the healing grace and the love of ones' companions.
~Holly Hand, LMFT, Psychotherapist

Finding Destiny captures the reader from the very first paragraph. The story weaves through the life of two women spanning two continents to introduce concepts of self-awareness, acceptance, truth, and forgiveness. Together the women explore and share their journeys to pique the curiosity of the reader. A great read!
~Lila Barkley, Ordained Minister

Finding Destiny is the story of two women whose challenges and triumphs mirror each other in many ways. It is also about transformation and the author's insight on how to achieve it. Through this fictional story, Sinor offers helpful information and an introduction to metaphysical principles that become the foundation for both women's strength and power. It was a page turner right to the end!
~Reverend Margaret Flick

Finding Destiny explores our human constructs that reveal a complexity between the characters Sinor has developed in her first fiction novel. There is a benevolent mystery that forms as layers of solitary oneness searching for its ecosystem rooted across generations, gender, and continents. As we peel away the layers and discover the book's storyline, secrets born of fear and judgment are finally freed, and we are allowed to contemplate our own freedom and destiny.
~Reverend Pamela Rau

Finding Destiny goes beneath the skin, down to the internal turmoil and sacrifices of two women a half century and oceans apart as they, with their best conscience, make life changing and altering decisions. Reader's will enjoy Sinor's unique gift of sharing these stories, without bias, as the women discover the long term effects of the paths chosen.
~Mary Catherine O'Heart, RN, RScP
Finding Destiny is the story of two strong, fiercely-determined women living a world apart but inextricably linked by love. Their compelling journeys inspire faith in the power of women to overcome and triumph over the worst of life's societal blows.
~Lin Waterhouse, author
West Plains Dance Hall Explosion

Finding Destiny opens readers' minds to the reality that no matter our age or location, we are all walking toward our true destiny. Sinor's book gives us permission to overcome challenges, fight for what we want, and live on purpose.
~Robin Marvel, author
Life Check: 7 Steps to Balance Your Life!
Check out an Article I wrote for an author's Blog about how I decided to write a novel. It also describes my process of writing Finding Destiny. Click Here: "Write About It!"